For more than 30 years it has been EFCO's policy to have customers as partners. Thus we can jointly solve your problems which arise during machining and testing of sealing faces and flanges on valves.
Experience has shown that preventative maintenance is the cheapest way of increasing the safety of your installations. Once the first faults occur, costs frequently balloon, especially as action has to be taken under enormous time pressure in such cases. In addition to environmental damage and high clean-up costs, unquantifiable damage to your image can also quickly arise.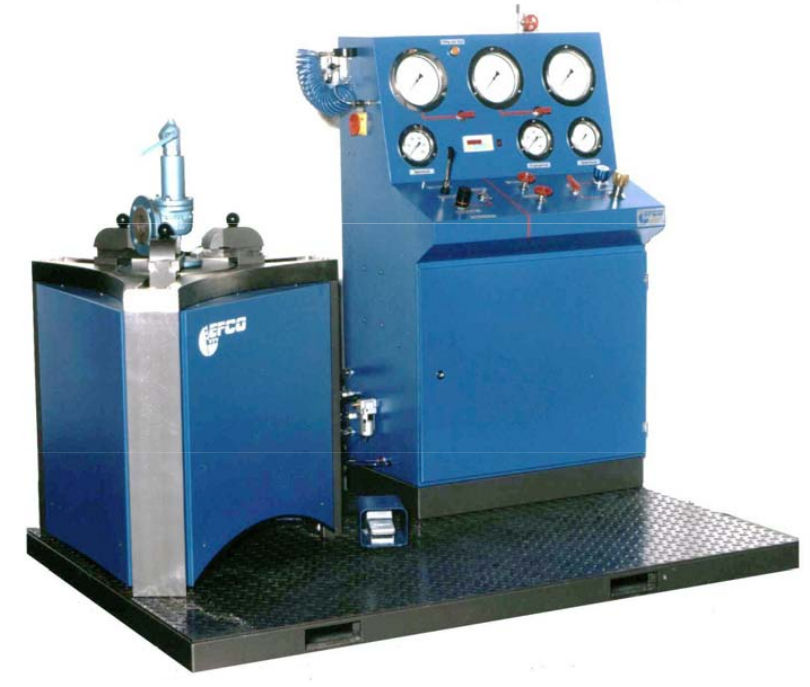 With the targeted use of EFCO technology, you achieve not just a high level of safety, but also save significant amounts of time and money in the long term and make an additional contribution to environmental protection without additional costs.
EFCO machines are used worldwide and are characterised by:
Excellent quality
Long life
Operator-friendly handing
First-class repair results
As a world-leading manufacturer of portable and stationary valve repair and testing technology, we are certified to DIN EN ISO 9001:2000.
We are able to maintain our market leadership due to flexibility, continuous process improvements, short information paths as well as dealing activity and positively with problems.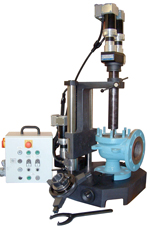 Our product range comprises, amongst other things:
Portable and stationary machining and repair machinery for valves, flanges and pipelines.
Source lapping machines
Valve test benches
Mobile workshops
Consumables
Workshops
Workshop planning, and many other things
Please contact our team in Duren, our sales offices or our sales partners for further information or if you have any questions. You can also visit us on the internet at www.efco-dueren.com.
We will gladly demonstrate our machines, also at your facility.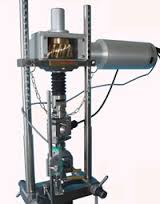 Our range of industries from A-Z
Apparatus construction                                        Petrochemical plants /refineries
Boiler manufacturers                                             Pharmaceutical industry
Chemical industry                                                   Pipelines
Combined heat and power stations                    Plant construction
Conventional power stations                                Refuse incinerators
District heating suppliers                                       Rubber manufacturers
Fertilizer plants                                                        Shipping companies
Food industry                                                           Shipyards
Gas manufacturers                                                  Steel industry
Hydroelectric power plants                                    Steel works
Manufacturer of valves                                           Sugar refineries
Mining                                                                         Valves service companies
Nuclear power stations                                            Valves trade
Paper industry/cellulose                                          Waterworks
Construction of valve test benches
Stationary/ portable (available up to about 10 t clamping force)
Manual /automatic
Horizontal /vertical /tilting
For the testing of
Gate valves
Valves
Control valves
Check valves
Ball valves
Safety valves
Hollow bodies (motor housing, pipe fittings, tanks, etc.)
Design of test piece ends (inlet/outlet)
Flange
Thread
Welding socket pieces
Flangeless("sandwich"/"wafer")
Test medium
Water
Air
Nitrogen
Special test media (e.g. oil, kerosene)
Test types
Strength test of housing
Leakage test of spindle gland
Leakage test of shut-off device
Set pressure of safety valves
Test pressure
Water, max. 1380 bar (2000 psi) (on request even higher)
Air / nitrogen, max. 300 bar (4350 psi) (on request even higher)
EFCO WELDING TECHNOLOGY CW-1000 SERIES
DN 30-1000 mm (1 1/4″ -40″).
Complete solution for MIG/MAG welding in and on valves.
Automatic welding of sealing faces /circular welding of:
Bores, circular faces, conical faces
The machine is equipped with automatic feed and has integrated water cooling.
Type                                      CW 1000
Axial stroke                          175 (6.89″)
Radial Stroke                        90 (3.54″)
Axial feed /rev.                     3 (0.12″)
Radial feed /rev.                   3 / 3,8 / 4,6 (adjustable) (0.12″ /0.15″ /0.18″)
Speed range                           0,1-5,0 rpm
Adjustment angle                  of head 0-90 (manually)
Dimensions in mm (inch)
MOBILE WORKSHOPS
As fixed lorry superstructure or in an ISO container
Fast reaction times and flexibility are required for on-site valve service. EFCO can provide you with a mobile workshop equipped to your requirements. It is equipped with EFCO turning, grinding and lapping technology and can also be fitted with a lathe, drilling machine, valve test bench and everything else you require.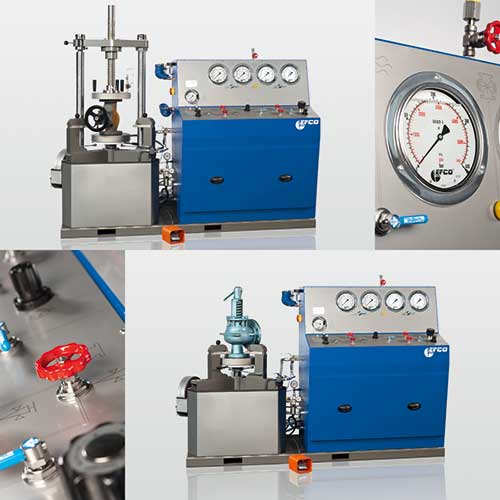 EFCOBOR LAPPING COMPOUNDS
In accordance with DIN 8589, lapping is a microfinishing process using a grain distributed loosely in a liquid or paste (lapping compound) which is held on a, usually shaped, counterpart(lapping tool).
EFCOBOR lapping compounds are oil soluble lapping pastes of boron carbide.
Using EFCO lapping compounds, it is possible to achieve
High surface quality
Highest dimensional accuracy
Close dimensional tolerances
Independent of the material hardness.
They can be supplied in various grain sizes from P80-P1500 (FEPA) and pack sizes.
EFCO also supplies other equipment, machinery and materials for valve repair on site or in the workshop and for the repair of pipelines.
SEAL AND PACKING CUTTING MACHINES AND EQUIPMENT
ANGLE PROTRACTOR FOR GATE VALVE SEALING FACES
TSM TELESCOPIC INSPECTION MIRROR
HYDRAULIC NUT OPENER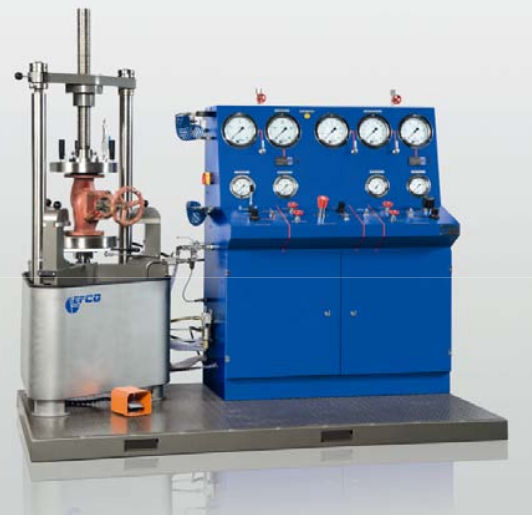 ADVICE, PROJECT PLANNING AND TRAINING
We offer training with our machines and equipment in our company or at your site. Valve repair training, too, is carried out competently.
Our core competence is valve repair/valve testing. We are happy to advise you and work together with you on drawing up concepts for valve repair. Our partners are companies of different sizes from many industries.
We can design and build special machines for you which match the requirements of your company.
We will gladly advise you at your site and also to provide any special information specific to your requirements.
For further information please refer to the site http://www.myefco.com